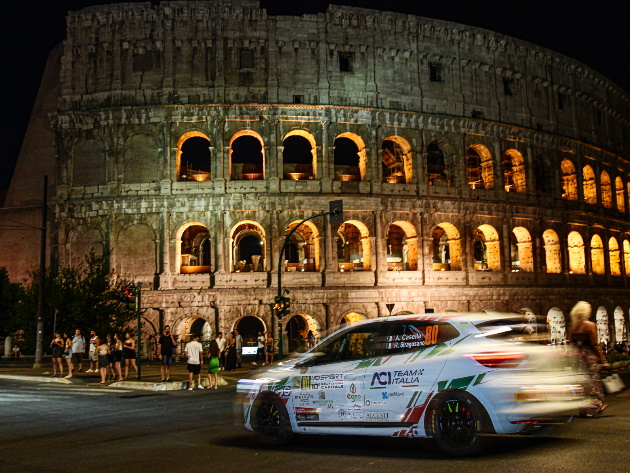 Rally di Roma Capitale is an event with a unique scenary and a considerable media coverage involving several municipalities in Lazio. It will take place on July 28th, 29th and 30th 2023.
Since its first edition, the event has counted on the patronage of Roma Capitale, CONI (Italian National Olympic Committee), the Lazio Region, and the municipalities involved. Rally di Roma Capitale is promoted by the Automobile Club d'Italia.
From 2013 to the present day, the initiative born as a local race. It first became a competition of the National Championship and then evolved within the Italian Rally Championship until it reached, with the support of the FIA, the highest recognition an event can obtain: the European Rally Championship (FIA ERC). In 2021, the Rally di Roma Capitale managed to obtain the recognition of the two stars of the FIA ERC2 Enviromental Accreditation thanks to its commitment and sensitivity towards the environment.
The event will be framed by some of the most representative locations in Rome such as the start from Castel Sant'Angelo (Saint Angel Castle) and the most scenic and extraordinary Special Stage ever at the Colosseum. The special stages will be located in the south area of Rome involving several municipalities of Regione Lazio.
Completely free of charge, the Rally di Roma Capitale aims to promote and develop national and international tourism, as well as to bring the younger fans closer to rallying discipline in order to make them aware of the issues of safety and road education.
Informations
When
from 28 July 2023
to 30 July 2023
Contacts
Email:
info@rallydiromacapitale.it
Facebook:
www.facebook.com/RallydiRomaCapitale
Instagram:
www.instagram.com/rally_romacapitale
Web site:
www.rallydiromacapitale.it

Condividi