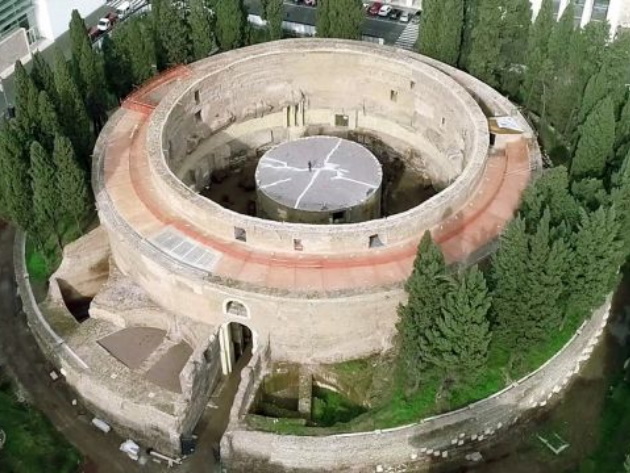 from 22 December 2020
to 31 December 2021
After the archaeological investigations, preliminary to the recovery and restoration project, from 1 March 2021, the Mausoleum of Augustus, one of the most impressive architectural Roman buildings and the largest circular tomb in the ancient world, reopens to the public.
A key monument in the transition from republican to imperial Rome, the Mausoleum is perhaps the most eloquent example of the reuse, reinterpretation, and rediscovery of ancient remains ever.
It became a fortress during the Middle Ages, an Italian garden in the Renaissance, an arena for bulls and buffaloes in the age of the Grand Tour, an auditorium in the early decades of the 20th century and was recovered in a political key in the Twenties.
A priceless treasure you can visit free of charge until 21 April, the day on which the "Christmas" of Rome is celebrated. You can already book the visit online. Furthermore, if you are a resident of Rome, admission is free throughout 2021.
In spring, you will also be able to navigate through the history of the Mausoleum, thanks to the possibilities offered by multimedia technologies, enriched with digital content in virtual and augmented reality.
The visit, lasting about 50 minutes, will be available from Tuesday to Sunday from 9 to 16 (last admission at 15).
The restoration works will allow the creation of a complete museum itinerary that will tell the various historical phases of the Mausoleum, flanked by a path without architectural barriers and accessible to all, in conjunction with the renovation of Piazza Augusto Imperatore, launched in May 2020.
Thanks to the restoration interventions of the Mausoleum carried out so far and the start of the museum itinerary, you will be able to visit the monument even with the construction site in progress and access the central area and other spaces in total safety.
Per maggiori informazioni: www.mausoleodiaugusto.it

Condividi