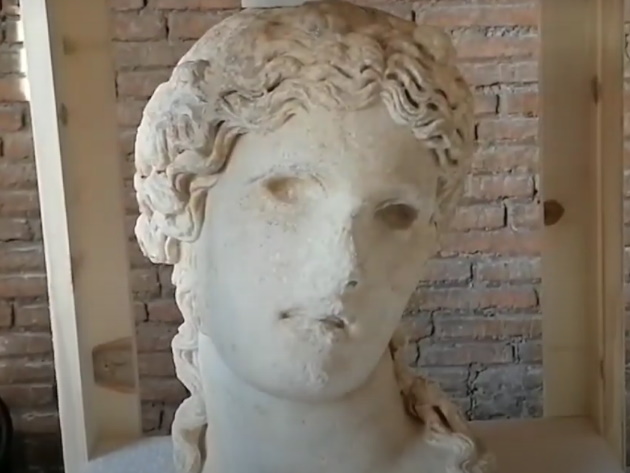 from 24 December 2020
to 31 December 2021
Rome is an inexhaustible casket of treasures: a new portion of the Imperial Forums has come back to light. With a single glance, it will allow you to admire the square of the Trajan's Forum and the monumental complex of the Trajan's Markets.
This is the first exceptional result of the archaeological excavation of the first stretch of Via Alessandrina, which gives the city a new perspective and better readability of the Trajan's Forum. The diggings were carried out thanks to the act of patronage of the Republic of Azerbaijan.
At the Museum of the Imperial Forums at the Trajan's Markets, in close connection with the place of discovery, sculptural and architectural finds that came to light during the excavation will be permanently displayed.
All the finds were part of the decorative apparatus of the Trajan's Forum built in the early II century AD to celebrate the victories over the Dacians.
Among the most important finds, there is a head of the imperial age, identified with the god Dionysus, found on 24 May 2019. It was intentionally used in a late medieval wall as a building material. A second head of the imperial age, probably depicting a young emperor Augustus, was found on 27 September 2019, as well as more than 60 fragments of the frieze of arms representing the war and the remains of the defeated and those of the winners, all deposited to symbolize the achieved Pax Romana. The motif, known as the Frieze of Arms of the Trajan's Forum, used to decorate marble panels flanked by statues of Dacian warriors crowning the rich front of the Basilica Ulpia and, perhaps, the arcades of the square of the Forum of Trajan.
The excavation of via Alessandrina and the exceptional historical and cultural value of the findings made it possible to acquire many relevant data for the reconstruction of the history of the monumental center of Rome: a first step towards the visual and physical reunification of the areas of the Forums of Trajan, Augustus, and Nerva, to give back to Romans and tourists an unprecedented, unique and even more suggestive vision of the site.

Condividi