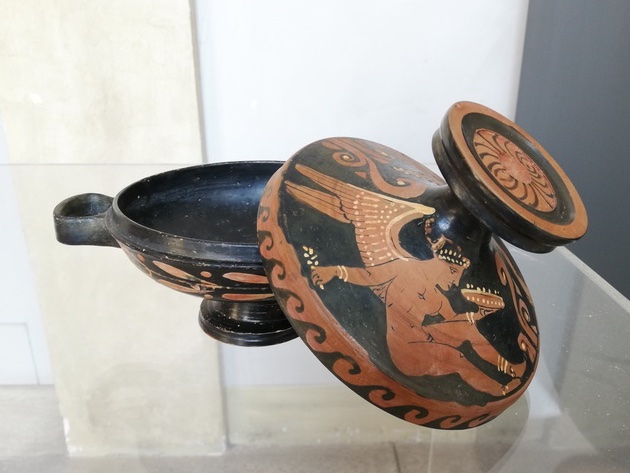 The exhibition that opens at Castel Sant'Angelo resumes, reversing the famous sentence from the novel "The Idiot" by Fyodor Dostoevsky "Beauty will save the world".
In fact, the exhibition highlights how beauty, meant as all the artistic and spiritual production of man, an enormous heritage of which we are guardians, is in constant danger. Hence the importance of safeguarding this immense common good, to enjoy it and be able to pass it on to future generations.
From these considerations the idea of ​​this exhibition was born, which in addition to being an exhibition of finds recovered from the Cultural Heritage Protection Command of the Carabinieri directed by General of Brigade Roberto Riccardi, presents for the first time the prevention and safeguard adopted by the Museums and cultural sites belonging to the state, with the coordination of the General Directorate for Safety of the Cultural Heritage of the MIC.
The exhibition is divided into different sections, within which visitors are led through stories of recovery, preservation and protection presented both in a narrative way and in images.
The exhibited material includes about forty works, including several masterpieces such as a red-figure krater by the famous Greek ceramist Euphronius dating back to the 5th-4th century. to. C. and a statue depicting the Aphrodite of Cnidus, a Roman copy of a Greek original from the I-II century. d. C. There is no shortage of works such as "The Crucifixion" by Peter Brueghel the Younger, the "Saint Catherine of Alexandria" by Cavalier d'Arpino and the "Penitent Saint Mary Magdalene" attributed to Paolo Veronese.
Of considerable importance also a "treasure" of bronze coins dating back to the third century. to. C. consisting of 75 pieces issued by the Mint of Rome, rare series of the first Roman coinage, the wonderful fragments of a terracotta high-relief of the III a. C., which represent "Diana and Atteone" forming part of the pediment of an Etruscan temple, a fragment of the obelisk located in Montecitorio and a violin by Andrea Amati in maple wood, made between 1560 and 1576.
The itinerary is enriched by panels and captions in Braille writing and by embossed reproductions of works for the blind.
Photo credits: Beni Culturali official site
Informations
When
from 13 July 2021
to 4 November 2021
POINT (12.4663838 41.9025166)
Contacts
Web site:
www.castelsantangelo.beniculturali.it
Web site:
www.beniculturali.it/evento/il-mondo-salvera-la-bellezza-prevenzione-e-sicurezza-per-la-tutela-dei-beni-culturali
Timetables
Dal 13 luglio al 4 novembre 2021
INAUGURAZIONE: lunedì 12 luglio ore 17.00
ORARI: dal martedì alla domenica dalle 9.00 alle 19.30 (ultimo ingresso ore 18.30)
APERTURA MOSTRA AL PUBBLICO: martedì 13 luglio
CHIUSURA AL PUBBLICO: tutti i Lunedì

Condividi
Location
Il mondo salverà la bellezza?, Lungotevere Castello, 50
41° 54' 9.0612" N, 12° 27' 58.9824" E